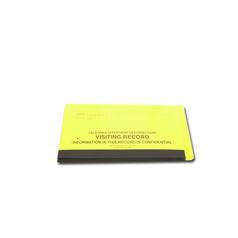 VIEW RECYCLED CONTENT
Description
Visitor File/Folder, Letter - CDC. Pressboard Visitor File, letter size. Front silk screened "CALIFORNIA DEPARTMENT OF CORRECTIONS VISITING RECORD".
Tabbed dividers titled "Application", "Medical", "CDC Form 887" and "Miscellaneous".
End tab on back cover.
Titles on fronts and backs of dividers and inside back cover.
6 ACCO fasteners (inside front and back and front and back of both tab dividers).
For custom folders, a one-time artwork set-up fee (#399900.0000) of $25.00 and a $1.00 per folder swipe fee (#379900.1000).
For ordering information, please contact Customer Service at (916) 358-2733. For first time orders or logo changes, please contact our Sales Department at (916) 323-2419 or salesinfo@calpia.ca.gov for a custom quote.