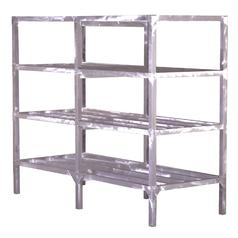 VIEW RECYCLED CONTENT
Description
The Pot and Pan Rack is a four-tier aluminum rack with seismic feet for fastening to floor to resist earthquake tremors. Tested to a maximum 75 lbs weight capacity evenly distributed per bottom three shelves and no more than 50 lbs evenly distributed on the top shelf.
Shelf space is 16'' apart.
Overall Height: 60"H.
Hardware to bolt unit to the floor and wall not provided by CALPIA.