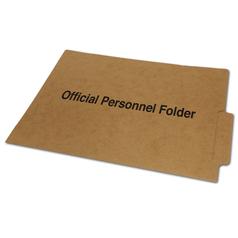 VIEW RECYCLED CONTENT
Description
Kraft Folder, letter size 11-5/8"Wx9-1/2"H. Silk-Screened - "Official Personnel Folder". 
Minimum order quantity of 25 Personnel File Folders per option
For custom folders, a one-time artwork set-up fee (#399900.0000) of $25.00 and a $1.00 per folder swipe fee (#379900.1000).
For ordering information, please contact Customer Service at (916) 358-2733. For first time orders or logo changes, please contact our Sales Department at (916) 323-2419 or salesinfo@calpia.ca.gov for a custom quote.