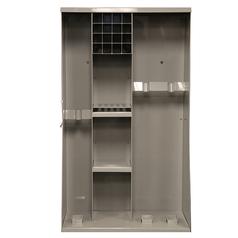 VIEW RECYCLED CONTENT
Description
The Open Face Gun Rack Locker is freestanding and doorless for fast-grab access.
Compartmentalized storage for 37 mm tear gas projectiles and shotgun shell storage.
Three gun staging racks sized for 37 mm weapons, shotguns, and Ruger Mini-14s.
Overall dimensions: 26"W x 12"D x 45"H at the bottom and tapered to 8" deep at the top.