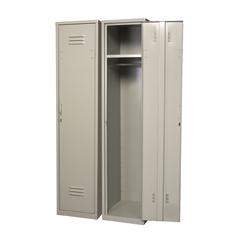 VIEW RECYCLED CONTENT
Description
The Wardrope Locker is metal; full depth and width shelf with cloths bar below. Wardrobe hook attached to each end of clothes bar.
Overall dimensions: 15"W x 24"D x 72"H.
Doors louvered.
Full length steel hinge.
Chrome handle for padlock (lock not included).
Set-In-Place $65.00.
Meets Seismic Safety requirements when secured to floor using manufacturer supplied hardware and instructions.