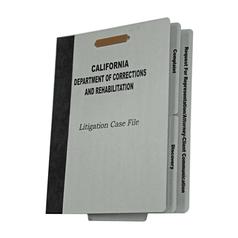 VIEW RECYCLED CONTENT
Description
Gray and Green Press board.
Two tabbed dividers, end tab on back cover.
Available in Legal and Letter size.
Titles on front and back divider and inside back cover.
Six ACCO fasteners; inside front and back, and front and back on both tab dividers.
The CDCR Litigation file comes with the front silk screened: "California Department of Corrections Litigation Case File".
For custom folders, a one-time artwork set-up fee (#399900.0000) of $25.00 and a $1.00 per file swipe fee (#379900.1000).
For custom printing, please attach a layout to your PO or contact our Sales Department​ at (916) 323-2419 or salesinfo@calpia.ca.gov. For ordering information, please contact Customer Service at (916) 358-2733.