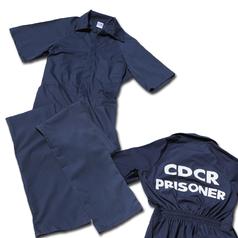 VIEW RECYCLED CONTENT
Description
The Short Sleeve Jumpsuit with side pockets has a snap closure. One left breast pocket, one right hip pocket and two side pockets. Silk-Screened "CDCR Prisoner" on back.
5 oz Poplin
Shirred-elastic back.
Short sleeves.
Please contact CALPIA Sales Branch at (916) 323-2419 for pricing information regarding custom logos or lettering.