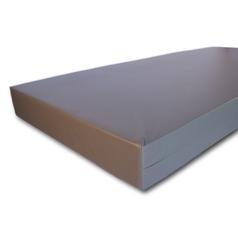 VIEW RECYCLED CONTENT
Description
The HealthSTAR, 6'' Foam Core, Vinyl Cover is designed specifically for health care and long-term care solutions. Wipes clean with mild detergent and water. This mattress meets the flammability requirements of California Technical Bulletin 129 and Federal Regulation 16 CFR Part 1633. This 6" foam mattress is constructed with:
An inner foam core of 6" thick high density polyurethane to maximize comfort and provide pressure reduction.
An outer cushioning foam core made of a polychloroprene compound that encapsulates the inner core and is fire resistant to meet strict flammability requirements.
An outer hygienic cover of 10 oz. vinyl with internal side seams that is fluid-proof, anti-microbial, stain resistant, anti-static, anti-fungal, non-allergic, odor free and crack resistant.