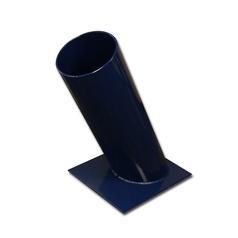 VIEW RECYCLED CONTENT
Description
The Gun Clearing Tube/ Bullet Trap is for safe discharge of small arms ammunition. Indoor/outdoor use. Manufactured of schedule 40 steel pipe set at 60-degree angle on 3/8" steel plate base, 18" x 24". Fill with sand (sand not included).
Weatherized enamel coating.
Paint color: Medium blue.
Overall dimensions: 18"W x 34 3/4"L x 38"H.
Weight: 200 lbs empty.