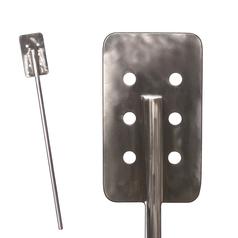 VIEW RECYCLED CONTENT
Description
The Food Services Paddle is a stainless steel food mixing tool designed to mix food during the cooking process. The tool handle is constructed from 1 1/4" 12 gauge stainless steel tubing that meets or exceeds ASTM-A269 tubing specifications. The mixing paddle head is fabricated from 12 gauge 304 stainless steel with 1" diameter holes for easy stirring and is fully welded to the handle. For use with 80 and/or 150-gallon pots.
Weight: 6.5 lbs.
Dimension: 66 inches long.

Approved by the National Sanitation Foundation for food and food product usage, meets or exceeds their standards.