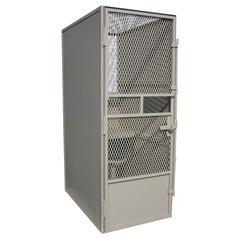 VIEW RECYCLED CONTENT
Description
The Temporary Holding Module is of heavy steel and steel mesh construction with a multipoint locking door. Door slam prevention. Unit delivered fully assembled. Drop ship/dockside delivery.
Floor mounted stainless steel seat.
Cuffing Slot.
30''W x 36''D x 78''H.
Weight 295 lbs.
*Please note when ordering: Left hinge denotes right handle side and right hinge denotes left handle side when facing the unit.