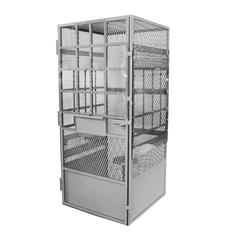 VIEW RECYCLED CONTENT
Description
*Extended lead time due to COVID-19 delays*
The Treatment Module has a built in desk with floor mounted stool. This unit is delivered assembled and may require final assembly and tack welding on site after delivery.
Dimensions: 77.5"H x 37.5"D x 35"W.
Weight: 444 lbs.
Heavy Steel and steel mesh construction.
Door slam prevention.
Lexan on front and two sides.
*Please note when ordering: Left hinge denotes right handle side and right hinge denotes left handle side when facing the unit.
Resources & Downloads