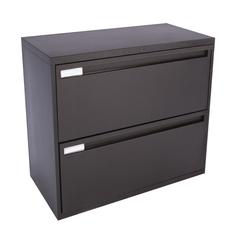 VIEW RECYCLED CONTENT
Description
The Lateral File Bin is metal, freestanding, has two locking drawers, and a counterweight is included. Will fit under most work surfaces. Drawers notched to accept drawer dividers. Accommodates letter/legal files. Non-tip feature: only one drawer will open at a time. Included are 2 lengthwise file bars per drawer for side access. Item #5640 bars are needed for front-to-back access.
36''W x 18''D x 27''H.
Set-In-Place: $65.00.