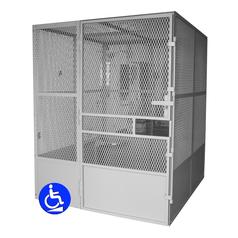 VIEW RECYCLED CONTENT
Description
The Temporary Holding Module - 360 Wheelchair Accessible is our largest Holding Module that will comfortably accommodate full wheelchair motion including 360 degree turning. We have also incorporated a built in flip up stool in the corner to allow for standard usage.
Dimensions: 64''W x 67.79''D x 78.2''H.
Weight: 846 lbs.
Available lite gray color and left hinge - right handle configuration only.
Heavy steel and steel mesh construction.
Door slam prevention.
This unit is delivered in 4 parts and requires final assembly and tack welding on site after delivery.